This page is for CAS items where there is a mismatch between file names, apparent features of the item, flags, ect.
For example, this eyeshadow is called "yfMakeupEyeshadow_ThreeToneWild_BlackYellow".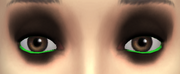 However, it is clearly seen that the colours are black and green, not black and yellow.
Media in category "Discrepancy"
This category contains only the following file.